When I was holidaying in Sacramento, I spent some afternoons surfing the websites for online shopping. Everything seems to be so cheap, not just the malls but from online websites especially branded shirts, wallets, shoes, household items and many more. I was thinking if I were to work in US and drawing salary from there, I would be spending a big portion of my pay doing online shopping! Malls close quite early over there, hence browsing and surfing online is a better option. In fact my brother-in-law does a lot of purchasing through the Internet. He does not like going to malls if he is given a choice, he said, he prefers to do his purchasing online, no hassle of queuing up to pay and driving around for a parking.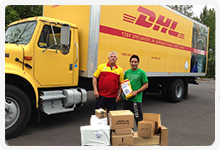 When I was there few months ago, I have received several parcels from certain companies, they were all for my BIL. He said it was so hassle free doing shopping online. One of the companies which he likes to use is USGoBuy.com, cos according to him, he said it is the largest and most reliable package forwarding agency in USA.
Being curious, I googled about shopping from usa and true enough, it is really one of the most popular package forwarding agency, furthermore they serve a wide range of clients from multi-national corporations to individuals on every continent.
Here is what USGoBuy offers....
·
Free Membership and US Address
·
No Sales Tax and Hidden Fees
·
Free Repacking and Consolidating Service
·
Reliable, Fastest and Efficient Shipping Services
Below are the few simple steps in Online Shopping at US top stores, just a few clicks away and we get our items delivered in the safest, quicket and cost-efficient manner!
1. Sign up on USGoBuy.com and get your US mailing address.
2. Shop with US online retailers.
3. Get noticed when your items are delivered to USGoBuy warehouse.
4. Submit shipment request and pay the estimated shipping fee.
5. Receive your shipment tracking number.
Not only in US alone, they also gives service to those shipments outside US without high international shopping fee. That is indeed something we love to hear! So from now onwards, we can do shopping from US extremely easy. Just check out their website and see what other services they provide. We might find something nice to share with our "shopping" friends, I am sure they would like to know more about this agency too.