When it comes to vinyl gloves, there are numerous options available to you, and sometimes it is difficult to decide which particular glove is appropriate for you job. Vinyl gloves can be used in virtually any application or situation. The following article will outline some basic facts and guidelines about Vinyl Gloves that will make your selection process much easier.
There are two Main Categories of Vinyl Gloves
Vinyl gloves come in two main categories: industrial and exam grade. Industrial grade vinyl gloves are typically use in "light-duty" industrial applications and situations where miild household cleaners, raw meat, or hair dye is handled. These applications require protection against non-hazardous chemicals or materials.
Industrial Glove Applications for Vinyl Gloves: plumbing, painting, food service, food processing, beauty salon, and janitorial or sanitation, agriculture, child care, first aid, arts and crafts.
Exam or medical grade vinyl gloves are best for situations that require a higher level AQL (Acceptable Quality Level) They must have less chance of developing pinholes than their industrial counterpart. They generally are more durable and provide protection against pathogens found in blood or bodily fluids. Gloves that are in this category must pass a rigorous set of testing and safety requirements from the FDA. Vinyl exam gloves typically have a looser fit and feel as compared to latex or nitrile gloves.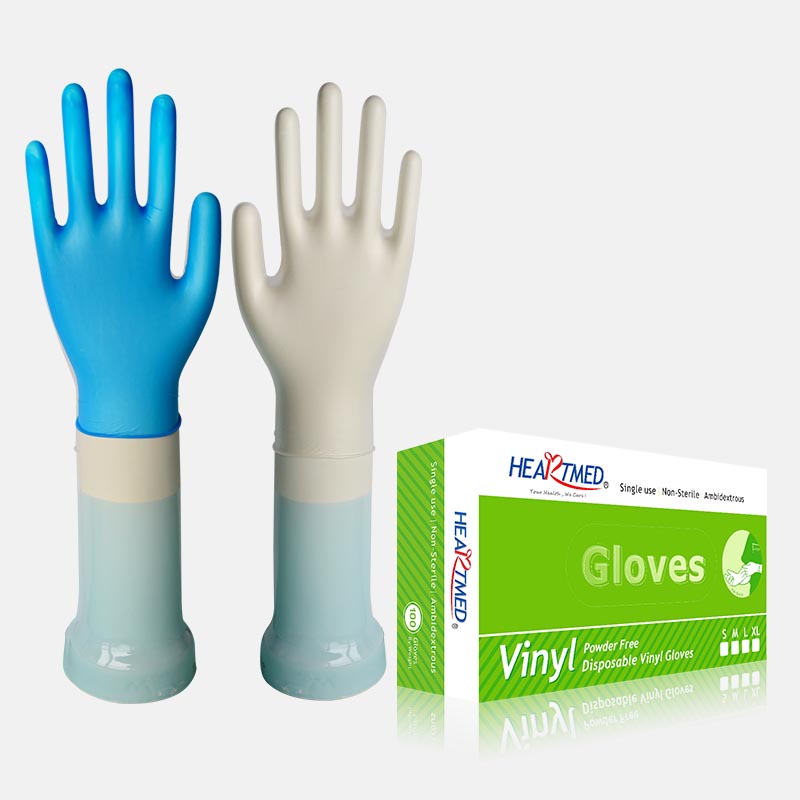 Exam or Medical Grade Application: child care, Dental, agriculture, janitorial, medical, senior care.
Size and Color
Vinyl gloves do fit looser than other disposable gloves such as nitrile and latex, so keep this in mind when determining your glove size. You still want your glove to fit close to your hand, without too much extra material bunching up.
Vinyl gloves come in a variety of colors, which can act as more than just a fashion statement. Using a variety of colors in your application can help differentiate glove size, or help to minimize cross contamination.
Clear Vinyl:
These gloves are ideal for use in safety and hygiene applications, because you can easily see when gloves are dirty and need to be changed.
Ivory or Cream Colored Vinyl Gloves: These are also referred to as stretch vinyl and generally are more durable and stretch than standard clear vinyl. This color of vinyl offers wearers the appearance and feel of Disposable Latex Gloves without the risk of allergies. They are formulated to be more elastic and stretchy like latex.