There are 15 of us bloggers who received this Versatile award from
Tekkaus
. I wonder how many of us will put this up. Tekkaus, it has been a long while since I last received one and even when I do, I admit that I always forget to put them up...but you are special, I do it straightaway cos of your two words.... "IF NOT dot. dot. dot dot.. "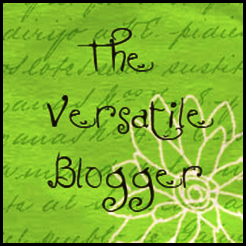 So I must do it, if not.... *shudders*
ok, Tekkaus, I just want to borrow your 7 points...
pinjam pinjam...
7 Random Things About Reanaclaire


1~I am very short.
My height is only 1.5 meter.. (shorter than u, Tekkaus)
2~My favourite beverage
NIL.. (force to drink oatmilk nowadays...)
3~I am happily married.
(till death do us apart)
4~I love to play
badminton and pingpong.. (but that doesn't mean I am good in either)
5~I

don't

like to draw.
(Yucks!! I am Art-less!)
6~I love to eat all sorts of asian food... BEST!

7~Bahasa Malaysia is my

poorest verbally spoken language next to Mandarin! (me-malu-ing)





phew... *wipe sweat*




As for the next rule, 15 bloggers I have to choose...




Ok hands up for those who want this.. take it or leave it.. LOL...




Kathy?? Cynthia??? Cleffairy???? Mommyling????? Agnessss??? helloooooooo....